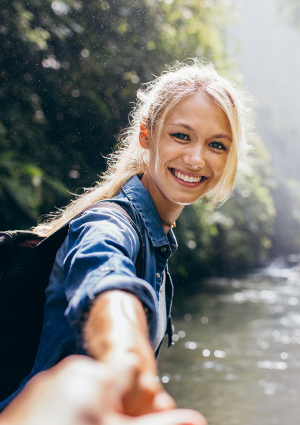 Let's design your stunning Hollywood smile.
With the help of simple cosmetic dentistry treatments, you can reverse teeth stains and smile blemishes. Dr. Szierer would love to help you reach your smile goals and give you a new sense of confidence. While we give you a new and improved smile, you will also enjoy patient comforts and amenities. We hope you enjoy the welcoming atmosphere at our office.
Cosmetic dental treatments can remove the imperfections in your teeth and give you the beautiful, confident smile that you have always wanted. We invite you to call us at 908-806-4333 to set up a consultation with our talented Cosmetic dentists and learn more about cosmetic dentistry in Flemington, NJ.
What Is Cosmetic Dentistry?
Cosmetic dentistry is a type of dentistry that focuses on improving the appearance of your smile, not just the health of your teeth and gums. If you find yourself uncomfortable with your smile and sometimes stop yourself from smiling, then cosmetic dentistry is something you should consider. Here at Sophisticated Smiles, we provide a variety of cosmetic dental services:
Unlike over-the-counter whitening options, Dr. Szierer uses first class whiteners that are powerful and safe. He uses the most effective whitening agents that penetrate deeply beneath the surface of the teeth to release stains.
Have crooked teeth, but hate the idea of wearing metal braces? Invisalign may be the perfect solution for you. These invisible aligners are custom-made to fit your teeth and shift them to their ideal positions. Patients find Invisalign treatment comfortable, subtle, and convenient.
We fabricate beautiful porcelain veneers tailored to meet your unique smile needs. These ultra-thin shells of porcelain can cover up chips, cracks, gaps, and discoloration. You can rapidly change the shape, size, or shade of one or more teeth with dental veneers.
For badly discolored, broken, or decayed teeth, we offer personalized dental crowns. Your crown will improve the esthetic of your grin while also restoring the strength of your bite.
Full Mouth Restoration
Perhaps you need more than one procedure to bring the smile of your dreams to life. Dr. Szierer offers full mouth reconstruction, which involves a series of procedures specifically designed to meet your needs. Trauma, genetics, and decay are no match for our incredible smile transformation treatments.
Our Cosmetic Dentistry Treatments
The aim of each of these treatments is to enhance the beauty of your smile. Through cosmetic dentistry, we can help you achieve a more beautiful, inviting smile that boosts your self-esteem and allows you to smile with confidence.
We may suggest cosmetic dentistry for any of our patients who would like to improve the beauty of their smile. Cosmetic dentistry might be the solution you need if your smile is flawed by imperfections such as:
Cracked, chipped, fractured or broken teeth
Gaps and spaces between teeth
Discolored, yellowed or stained teeth
Slightly misaligned or uneven teeth
One or more missing teeth
Teeth that appear too long, too short or too pointed
Very worn teeth
Misshapen teeth
Cosmetic Dentistry Tailored to Your Smile
Our dentists will help you choose one or more of our high-quality cosmetic dental treatments based on your personal needs and desires. This individualized treatment plan will help you accomplish all of your goals for the smile of your dreams. The cosmetic experts of Sophisticated Smiles would be honored to give you a different kind of dental experience. To enhance both your health and beauty, give us a call today. We look forward to helping you reach the attractive, healthy smile you deserve! You can learn more about us by checking our business page, and make sure to get directions before heading our way.