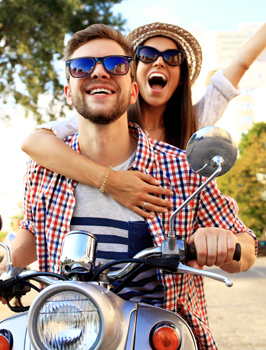 Nobody plans to have a dental emergency. We understand the pain and stress a toothache or broken tooth can cause, and we want to help you get back to your normal life as soon as possible. Dr. Szierer is qualified and prepared to treat your dental emergency here at Sophisticated Smiles.
If you have had a tooth knocked or a severe abscess infection, call our office right away. Our friendly staff is ready to help you with your dental emergency.
Dr. Szierer and his supportive staff take charge of an emergency situation with the experience and know-how of emergency dentistry. We can help you get rid of your pain and get back to your busy schedule.
Same day services available
At Sophisticated Smiles, we strive to stand out from other dental offices. We provide same-day dental services for our patients in need of emergency treatment. Our compassionate team will help you feel comfortable during your visit. If you have a dental emergency, or if you have a question about what might be a dental emergency, call us to ask any questions or to schedule a same day appointment.
Round-the-clock care for our patients
When you find yourself in extreme pain or suddenly missing a tooth, call our office. Dr. Szierer wants to help you. However, if your jaw is broken or if you have severe bleeding, you should go to the nearest emergency room for help.
Do you have a dental emergency?
Avulsed tooth (tooth knocked out): When a permanent tooth has been knocked completely out, you should visit a dentist as soon as possible. In the meantime, save your tooth in your mouth between your cheek and gums or in a resealable plastic bag with milk.
Broken or lost dental work: Sometimes dental work ends up broken or missing, increasing sensitivity to your teeth and leaving exposed tissue susceptible to damage.
Cracked, chipped, or broken teeth: Rinse your mouth with lukewarm water and call our office to schedule an appointment.
Toothache: When you have a toothache, a serious infection may be the root of the problem. Call our office right away.
Some other issues that might be dental emergencies are:
Objects stuck between the teeth.
Tooth infection or abscess tooth.
Loose permanent teeth.
Dental emergencies can get worse as time passes, meaning your pain will worsen and the danger caused by the problem can increase. Don't hesitate to call us for urgent treatment.
For high-quality emergency dentistry services, call Sophisticated Smiles.